Located in Kenmore, Washington the new Bastyr University Student Village accommodates 132 students amongst 11 three-story free-standing cottages.  The design-rich and eco-friendly village, by CollinsWoerman, was originally designed to meet LEED Gold, however the project exceeded expectations and earned LEED Platinum certification while being completed under budget and ahead of schedule.  The student village achieved 34 percent energy savings over more traditional multifamily projects and diverted 97 percent of construction waste from landfills through careful teamwork and planning. The award is the top honor the USGBC makes for multifamily projects.
Bastyr University student village was awarded the Outstanding Multifamily Project in the 2010 LEED for Homes Awards from the US Green Building Council.
The student housing village reflects the school's integrated approach to the natural health arts and sciences. CollinsWoerman used a highly interactive and collaborative design process involving both students and faculty to create a design specially tailored for the older, independent students that attend the school.
"This is an outstanding example of what is possible when the process for creating an environment that delivers comfortable living space for students is rooted in a sustainable design approach," said Arlan Collins, principal in charge of the project.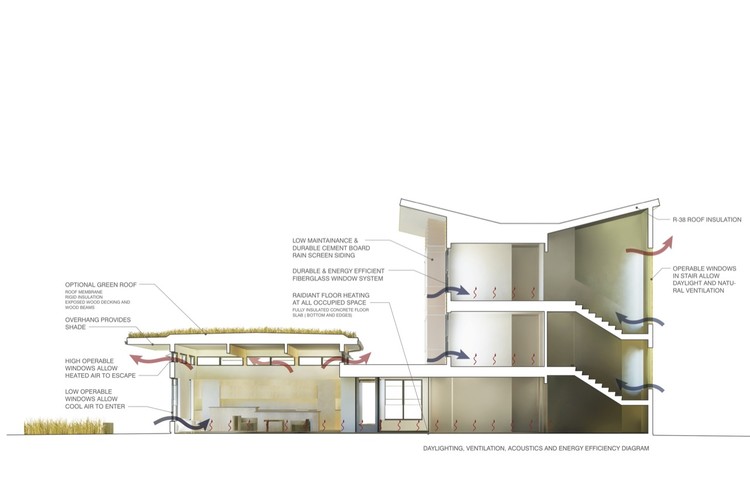 Smaller living units proved less costly to build than a traditional dorm, and will be less costly to operate. In fact, the University experienced significant cost savings through the value engineering process that CollinsWoerman and contractor Schuchart utilized, according to CollinsWoerman project manager John Aldredge.
"We went through four rounds of budgeting to get the absolute best cost savings for the University," Aldredge said. "By working closely together we were able to achieve significant efficiencies. We benefited from both economies of scale and repetition."
Construction costs totaled $12 million of the $16.5 million project overall. The village minimizes impact to the environment, fitting into the 51-acres campus' pristine natural setting in Kenmore, Wash., just outside of Seattle. Special care was taken to leave nearby wooded areas and wetlands undisturbed before and during construction.
"Schuchart achieved a 97 percent rate on recycling construction debris and made product suggestions that resulted in better – and sometimes greener – results," Aldredge said. "The construction crew grew more efficient with each cottage."
The USBGC noted the exemplary performance of a number of features of the design and construction project including: · Elimination of unnecessary space · Radiant-floor heating · High-efficiency boilers, water heaters and heat recovery · Whole-house natural ventilation · Locally-sourced, FSC-certified lumber · Extremely low maintenance highly durable exterior rain screen cladding · Low-VOC paints and urea-formaldehyde-free cabinets and doors · Energy-star appliances and light fixtures; low-flow plumbing · "Butterfly" roofs to capture rainwater; green roofs on select units · Permaculture teaching garden with edible and medicinal plants · Entry benches constructed from structural wood salvaged during construction · A high-quality user education video for all residents
Architects: CollinsWoerman Location: Kenmore, Washington, USA Design Team: Pat Logan, John Aldredge, Sarah Reisenauer and Brian Walters Project Year: 2010 Photographs: Lara Swimmer and Karen Steichen/CollinsWoerman
Read the original article HERE