By Henry Ly
On February 19, 1942, President Franklin D. Roosevelt authorized Executive Order 9066, which allowed regional military commanders to designate "military areas" from which "any or all persons may be excluded." This executive order ultimately led to the forced relocation and incarceration in concentration camps of around 120,000 people of Japanese ancestry in the United States. While many of us may be familiar with the internment of Japanese Americans during World War II, many may not know that Bainbridge Island was the site where the first group of Japanese Americans was forced out of their homes and placed into internment camps. Japanese Americans have history and roots on Bainbridge Island dating all the way back to the 1880s, where Japanese immigrants worked in sawmills and the strawberry harvesting industry, ultimately becoming an integral part of the Island's community and economy. However, on March 30, 1942, 227 Japanese Americans left Bainbridge Island on a ferry heading for Manzanar, California, one of 10 American concentration camps set up to incarcerate Japanese Americans. While being forced out of their homes on Bainbridge Island solely due to their ethnicity, many of the Japanese Americans still held their head up high, with Rev. K Hirakawa being quoted "If this evacuation will help the country, we are proud to obey the order."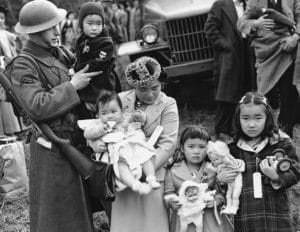 Today, Bainbridge Island is home to the Bainbridge Island Japanese American Exclusion Memorial, an outdoor exhibit commemorating the internment of Japanese Americans from Bainbridge Island. The memorial has a beautiful cedar "story wall" honoring all 276 Japanese and Japanese American residents on the island at the time.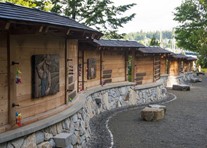 One of the missions of the memorial is the foundational idea of Nidoto Nai Yoni (Let it Not Happen Again).
While this was a dark day in American history for the AAPI (Asian American and Pacific Islander) community, it is far from the only one. Almost 80 years later, we are seeing historic spikes in hate crimes against the AAPI community in 2021 due to nothing other than the color of their skin. Police data have shown a 169% increase in Anti-Asian hate crimes in just the first quarter of 2021. With May being Asian American and Pacific Islander Heritage Month, we wanted to highlight a single, but significant, story in AAPI history, and also bring light to the current events happening to the AAPI community due to racism & xenophobia still being prevalent in our country.

If you have the means to, please consider donating to Stop AAPI Hate, a non-profit group set up in the wake of the COVID-19 pandemic that is dedicated to tracking, raising awareness, and fighting against AAPI hate crimes.
https://stopaapihate.org/
Additional reading/Photo Credit:
Seattle Times: How Bainbridge Island Japanese were registered, forced from their homes during World War II
Seattle Magazine: Seattle Remembers the Japanese Internment
History Link: Bainbridge Island: A Close-Knit Community's Tragedy and Triumph by Jack Hanley